Operational difficulties strikes the carriage of bicycles
March 11th 2008
The long running saga of can you or can't you bring your bike on the new Intercity trains came to an end in Claremorris on Saturday last. Rail Users Ireland, together with representatives from cycling groups in Dublin and Mayo became some of the first to actually see the bike storage area on the train.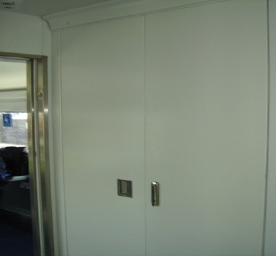 The 'cupboard' is to be found next to the wheelchair accessible toilet, normally to be found at the end away from Dublin, use the door carrying the blue wheelchair logo. Peering into the cupboard we find space for two cycles.
In previous months, Rail Users Ireland set about obtaining clarification as to the carriage of cycles, several differing views where presented by Irish Rail:
The corporate communications office said no space for bikes on a 3 coach train but yes on the 6 coach version, subsequently correcting itself to say all trains had space
A senior manager told us of a secret unmarked cupboard somewhere onboard
Customer services say yes, there is space, but
We learn again that there is a space but its 'difficult to access' which reads as a very carefully stated no
You can already imagine the notice from Irish Rail, "Due to operational difficulties no bikes will be carried today since the person who knows where the bikes go is on a rest day". Once again the passenger and indeed tourism in Ireland suffer as Irish Rail don't seem to know what they are doing, the passenger is faced with a multitude different answers to the same question. The net result the passenger gives up and doesn't bother or shows up and is turned away.
Further information on bringing your bike by train in Ireland is available from this page http://www.railusers.ie/passenger_info/bikes.php. Irish Rail of course have no information online themselves.